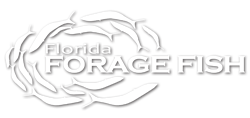 LET'S BETTER UNDERSTAND AND CONSERVE VITAL FORAGE FISH AND THEIR HABITATS
TAKE THE PLEDGE, JOIN OTHERS WHO BELIEVE FORAGE FISH AND THEIR HABITATS DESERVE OUR PROTECTION
I BELIEVE that forage fish species, such as menhaden, sardines, anchovies, herring, scad, ballyhoo, and pinfish are critically important to the health of Florida's marine food webs.
I SUPPORT efforts to better understand, conserve, and manage this important prey base for species such as snook tarpon, redfish, spotted sea trout, sailfish, king mackerel, cobia, dolphinfish, coastal birds, and other marine species that support jobs, revenue, and recreational opportunities in Florida.
Forage fish help make Florida the Fishing Capital of the World
The Florida Fish and Wildlife Conservation does an excellent job of managing Florida's fisheries. Properly managing forage fish will ensure that Florida maintains its rich fishing legacy.
Florida is the undisputed Fishing Capital of the World1, and for good reason:
More International Game Fish Association records have come from Florida than any other U.S. state or country.2
Florida boasts over three million resident anglers and over one million non-resident anglers annually—more than any other state.
Saltwater recreational fishing in Florida has a total economic impact of 7.6 billion dollars annually—more than any other state.
Florida's saltwater commercial fisheries provide tens of millions of pounds of fresh seafood to Florida and beyond.
Florida's popular game fish rely heavily on forage fish
More than 40% of a snook's diet consists of forage fish such as pinfish, anchovies, mullet and others. The prey heavily on 5-7 cm pinfish during the summer when their abundance is highest.
Redfish diet consists of approximately 34% forage fish.
Nearly 80% of juvenile tarpon diet is forage fish likes mosquito fish, mumichog and mollies.
Roughly 30% of what sailfish feed on are forage fish.
Gag grouper diet consists of roughly 45% pinfish in the winter and approximately 25% in the summer.
Why are forage fish vulnerable?
Forage fish experience natural variations in abundance due to environmental conditions. They also school together in large numbers, which make them easy to target and catch. These stressors make forage fish vulnerable to commercial over-exploitation and collapse. Forage fish collapses have been observed a number of times in recent history:
California sardine- 1950s
Peruvian anchoveta- 1970s
Namibian sardine- 1970s
Japanese sardine- 1990s
New data exists on the importance of forage fish to other predators3
Of all the ecosystems studied in the Lenfest Forage Fish Task Force report, 75% had at least one predator whose diet consisted of 50% or more of forage fish. 29% of ecosystems studied had at least one predator whose diet consisted of 75% or more of forage fish.
Globally, the direct value of commercially harvested forage fish is approximately $5.6 billion dollars, annually. However, the supportive value of forage fish is $11.3 billion. In other words, forage fish have a higher economic value when left in the water as forage for larger predators. We have no idea how large the impact is on recreationally important species, especially in states like Florida that have extensive recreational fisheries.
References
---
1 Southwick Associates. Sportfishing in America: An Economic Force for Conservation. Produced for the American Sportfishing Association (ASA) under a U.S. Fish and Wildlife Service (USFWS) Sport Fish Restoration grant (F12AP00137, VA M-26-R) awarded by the Association of Fish and Wildlife Agencies (AFWA), 2012.
2 International Game Fish Association World Record Database, 2013.
3 Pikitch, E., Boersma, P.D., Boyd, I.L., Conover, D.O., Cury, P., Essington, T., Heppell, S.S., Houde, E.D., Mangel, M., Pauly, D., Plagányi, É., Sainsbury, K., and Steneck, R.S. 2012. Little Fish, Big Impact: Managing a Crucial Link in Ocean Food Webs. Lenfest Ocean Program. Washington, DC. 108 pp.
External Links
---