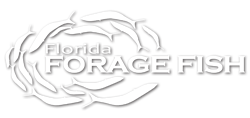 LET'S BETTER UNDERSTAND AND CONSERVE VITAL FORAGE FISH AND THEIR HABITATS
TAKE THE PLEDGE, JOIN OTHERS WHO BELIEVE FORAGE FISH AND THEIR HABITATS DESERVE OUR PROTECTION
I BELIEVE that forage fish species, such as menhaden, sardines, anchovies, herring, scad, ballyhoo, and pinfish are critically important to the health of Florida's marine food webs.
I SUPPORT efforts to better understand, conserve, and manage this important prey base for species such as snook tarpon, redfish, spotted sea trout, sailfish, king mackerel, cobia, dolphinfish, coastal birds, and other marine species that support jobs, revenue, and recreational opportunities in Florida.
Preliminary research shows less fresh water and higher sea levels could be changing the forage fish in Florida's famed Apalachicola Bay and the fisheries that depend on them.
Jos Hill & Gillian Lyons, The Pew Charitable Trusts
Northern anchovy are finally catching a break. A key part of the Pacific Ocean food web, these small, nutrient-rich fish are the most important prey for more than 50 species of marine wildlife, from albacore tuna and chinook salmon to least terns and humpback whales.
Moira Donovan, Hakai Magazine
A beloved fish with a rich history has become hard to find—will it rise again?
Trimmel Gomes, Public News Service
For the most part, if you're a fish, you're either prey or predator, but Florida research is finding the symbiotic relationship is at risk after outbreaks of harmful algal blooms.
By Dylan Sinnickson, a PhD student at University of Florida.
Examining the effect of different levels of river discharge in the Suwannee River Estuary on forage fish and their predators.
Dakota M. Lewis, researcher at the University of Central Florida
Research tackles the complex issue of how environmental conditions during algal blooms and resulting fish kill events affect forage and sport fish populations.
By Forage fish Research Program fellows Dakota M. Lewis and Emily Farrell
Florida research is finding the symbiotic relationship is at risk after outbreaks of harmful algal blooms.
Video of Dylan Sinnickson, a PhD student at University of Florida.
Studying the impact of anchovy biomass on snook, redfish, and spotted seatrout populations within the Suwannee estuary system.
By Joseph Gordon & Aaron Kornbluth.
Management of species, including catch limits, will provide for the needs of its predators
By John Page Williams, Chesapeake Bay Magazine.
After a tumultuous few years for menhaden management in Virginia, the state will avoid a moratorium on all menhaden fishing as it finally comes into compliance with the East Coast states' fishery management plan.
By Louisiana State University.
New research suggests that large-scale environmental factors influence the size of one of the ocean's most abundant forage species.
By Joseph Gordon and Aaron Kornbluth, The Pew Charitable Trusts.
Commission postpones vote to conserve menhaden as science shows its critical role in ecosystem
By Joseph Gordon and Aaron Kornbluth, The Pew Charitable Trusts.
Groundbreaking science- and ecosystem-based measures could be adopted soon
By Leda Cunningham, The Pew Charitable Trusts
Bullet mackerel and frigate mackerel help sportfishing industry—and ecosystem—thrive
By Holly Binns, The Pew Charitable Trusts.
Governor can sign off on a new aquatic preserve to help safeguard coastal economies—and a way of lif
U.S. Representatives Brian Mast (FL-18) and Debbie Dingell (MI-12)  introduced bipartisan legislation to strengthen key protections for fisheries and promote responsible management of forage fish.
By Ken Hinman and Pam Lyons Gromen,of Wild Oceans in SportFishing Magazine
Sport-fishing enthusiasts can influence the federal management plan for Atlantic herring: here's how.
The Atlantic States Marine Fisheries Commission has put the state of Virginia on notice regarding the menhaden fishery in the mid-Atlantic state.
 Instead of focusing on individual species when setting fishing rules, an updated fishery ecosystem plan from the South Atlantic Fishery Management Council sets the foundation for managers to consider the broader marine ecosystem of which they are a part.
This man ate 700 seafood meals in a year -- what he learned about himself and the ocean
Fish oil pills are the third-largest-selling supplement in the United States.  Check out this article in the health benefits of fish oil and their impact on forage fish populations. #littlefishbigdeal
Atlantic Menhaden Board's Shocking Vote
Atlantic menhaden fishery to follow "status-quo management" despite public's request for change.
On Menhaden, Fisheries Body Again Ignores the Big Picture
Last week was big for menhaden, a forage fish that is prey for many wildlife species and is the focus of the East Coast's largest fishing operation. On Nov. 13 and 14, the Atlantic States Marine Fisheries Commission's Menhaden Management Board met in Linthicum, Maryland to set catch limits and other policies for this critical species. The result was a mixed bag that shows some promise for working toward the long-term sustainability of menhaden but falls short of the certainty many fisheries experts and conservationists had sought. In the months leading up to the decision, one thing became perfectly clear: Public support for protecting menhaden's role in the ecosystem has never been stronger.
Why forage fish species are worth fighting for
Anyone who has seen a nature documentary knows a central truth of life in the animal kingdom: Predators depend on prey — and will perish if they cannot successfully hunt for their next meal.
In battle for the bunker, it's science and chance for history
Healthy U.S. marine fisheries rely on management plans approved by government stewards that keep prized fish in the water and people in business. It mostly works for the saltwater stars such as striped bass, bluefish, and snappers but not as well for forage fish like menhaden, according to scientists, conservationists, and a variety of stakeholders.
For conservationist Joseph Gordon, a menhaden experience
Menhaden is a pinch-your-nose kind of fish that even its family, including herring, might like to disown. Practically no one eats menhaden on purpose (unless you are popping omega-3 pills). And, according to legend, Squanto introduced the oily little stinker to hungry Plymouth colonists only as fertilizer for their crops.
A Vision for Menhaden: Supporting Anglers, Wildlife, and Businesses From Florida to Maine

On Nov. 13, the Atlantic States Marine Fisheries Commission will take its most important vote yet on how to manage menhaden, which are fished commercially and also support tourism, recreational fishing, and coastal businesses by serving as a key prey species for many predators. Three people who care about menhaden spoke with The Pew Charitable Trusts about what this forage fish means to them. Their answers were lightly edited for clarity and brevity.
Atlantic Menhaden Fishery Faces Crucial Decision
On Monday, November 13, 2017, the Atlantic States Marine Fisheries Commission will meet for two days in Baltimore and decide whether or not to adopt an ecosystems approach to conserving menhaden beginning next year, or stick with the status quo while they study the issue for a few more years.
Fate of 'Most Important Fish in the Sea' Hangs on Commission Decision
In just a few months, fishery managers along the U.S. East Coast will make a major decision that will determine the long-term future of one of the region's most vital species—and the state of the larger Atlantic Ocean ecosystem it powers. Atlantic menhaden, which some fisheries experts call "the most important fish in the sea," are at the center of the debate—and the food web. On Nov. 13 and 14, the Atlantic States Marine Fisheries Commission (ASMFC), which coordinates the conservation and management of 27 nearshore fish species from Maine to Florida, will set not only the 2018 catch limit for menhaden but also a course for the future. How the commission views menhaden's role as prey for wildlife in the broader ecosystem will affect hundreds of millions of these fish.
'Most important fish in the sea' to be discussed Oct. 10
Anglers know a pogy when they smell one.
It's as fishy as fishy comes. For my money, it's the fishiest fish in the sea.
And according to some, pogies — more properly called Atlantic menhaden — are the "most important fish in the sea." They're known by as many as five different names, depending on where you fish. I grew up in Jensen Beach and called them bunker.
I'm a Floridian Sportsman
Interview by Jeff Weakley
Behind the scenes of Florida's diverse and abundant marine life are ranks of scientists committed to documenting the life histories and inter-relationships of fishes. Much of the vital field work is performed by graduate students who, in many cases, literally plunge into their research.
Atlantic Menhaden: Scientist Sign-on Letter
Greetings.
On behalf of Dr.'s Marc Mangel, Tim Essington, Dee Boersma, Les Kaufman, Bill Sydeman, and myself, we request your help to advance fisheries management of a key forage fish, Atlantic menhaden. Menhaden are a major prey item in the diets of many beloved and economically important predators including striped bass, bluefish, tunas, weakfish, cod, king mackerel, cobia, osprey, and humpback whales. The body that manages menhaden – the Atlantic States Marine Fisheries Commission – is on the verge of an historic action that would transition management from a single-species approach (i.e., one that is solely focused on menhaden stock dynamics and the needs of its fishery) to an ecosystem one that prioritizes its role as prey.