2018 Fellow Jonathan Peake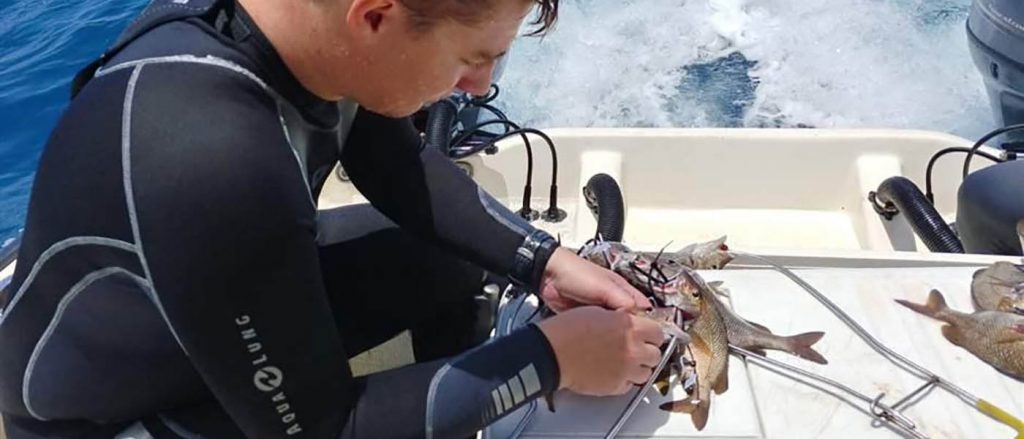 Peake tags white grunts after diving in the Gulf of Mexico. Each numbered tag allows scientists to trace information collected back to the individual fish.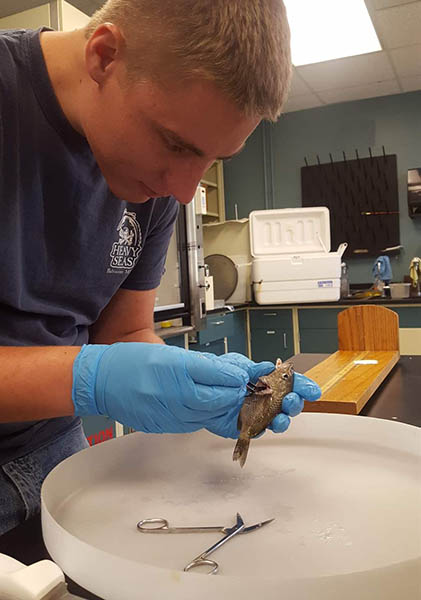 Peake examines a white grunt (Haemulon aurolineatum) for a study of artificial and natural reefs.
Jonathan Peake was among the second year awardees of the Forage Fish Research program fellowship in 2018 while working as a doctoral student at the University of South Florida. Jon's work focused on ways to better understand the dynamics of prey species in Gulf Coast estuaries, specifically how they change in abundance, composition and by habitat relative to predators. Jon examined these dynamics by diving into decades of data on forage fish populations available in the FWRI database. Jon focused on the affect of major environmental events such as cold snaps, red tides, and changes to habitat on the local fish communities.
To explore the highly complex world of fish community relationships, Jon employed the use of complex statistical analysis methods in four Florida estuaries: Tampa Bay, Cedar Key, Charlotte Harbor, and Apalachicola Bay. In total, Jon analyzed 62 forage species and 75 predator species in these regions to determine a hierarchy within specific locations and how these may have shifted or changed due to environmental factors.
Jon is working to complete is doctoral degree and is eager to shing a light on typically overlooked forage fish species and their highly complicated relationships to each other and predators in these estuaries. "They have tremendous value for the state of Florida and recreational and commercial fisheries," Peake says. "They are the basis for the food web especially for fish we like to eat."