Six Years Later and Still Swimming Strong
2022 marks year six of the Forage Fish Research Program (FFRP). Driven by the power of partnership the program continues to produce peer-reviewed research investigating the links between forage species and their dependent predators, essential fish habitat, and their responses to environmental disturbances. 
This purpose-driven work is being put to good use by fishery scientists. Findings from one of the program's earliest peer-reviewed publications (Faletti 2019) examining pinfish populations along Florida's Gulf coast is being cited in the National Oceanic and Atmospheric Administration's upcoming Climate Vulnerability Assessment for the Gulf of Mexico.
Importantly the program is also supporting early career opportunities for research fellows.  The work done and relationships built with state and federal agency officials has helped lead three FFRP fellowship alumni to full-time resource management positions in GIS communications, marine ecosystem research, and fishery data analysis.
We are thrilled with the progress made so far and thank you for your continued support of this important work.
Sincerely,
The Florida Forage Fish Coalition
"Every fall, millions of mullet in schools bigger than football fields migrate south along Florida's Atlantic coast. Tourists on Florida beaches watch in absolute amazement as thousands of predators ambush the schools of mullet in sometimes less than a foot of water. Predatory fish that feed on the mullet schools include sharks, tarpon, jack crevalles, bluefish, snook, redfish, ladyfish, and many more. Most people in Florida refer to this migration as the "Mullet Run," BlacktipH. Watch stunning footage of this annual spectacle here.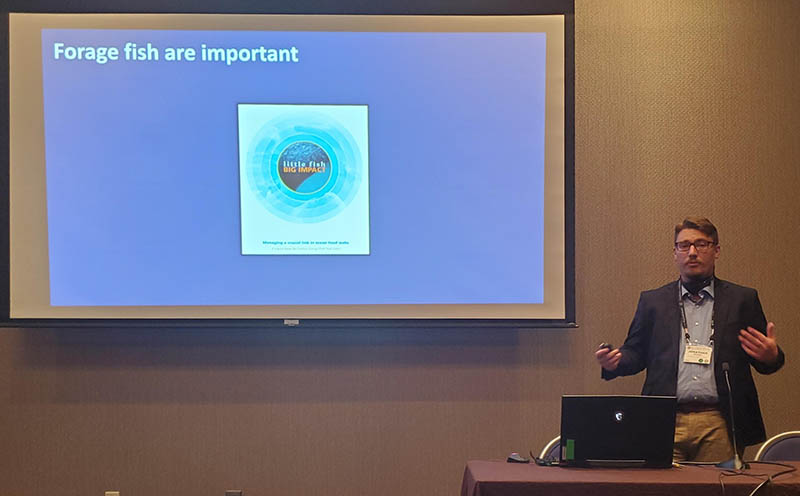 Jonathan Peake, "I have accepted a job working for the Fisheries Independent Monitoring group at Florida Fish and Wildlife Research Institute! I am working as a Research Associate serving as the lead data analyst for the FIM inshore program…My belief is that my experience with the Florida Forage Fish Coalition & the FFRP played a large part in my being offered this position." Photo courtesy of Michael Schram.