Catching Up with Florida's Forage Fish

July 2020 Newsletter
A lot has happened since the last time we schooled up for Florida's forage fish. Despite the current challenges, the Forage Fish Research Program (research program) continues to move forward in its efforts to support novel research by the next generation of fisheries scientists. The results are impressive: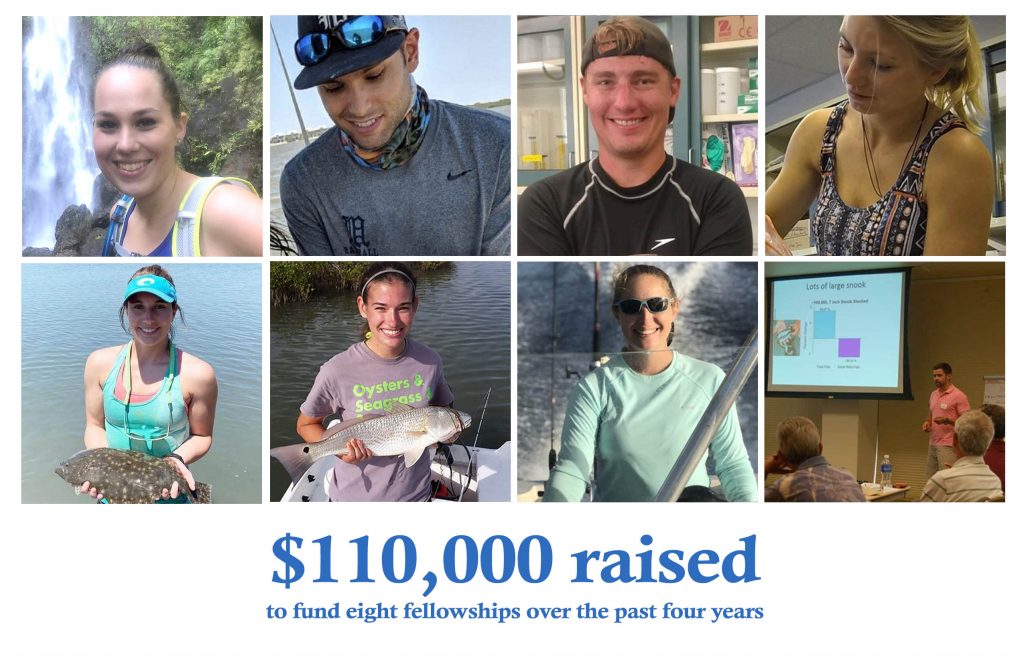 Thanks in part to your support, the research program has raised $110,000 to fund eight fellowships over the past four years. Research proposals for the upcoming year have been reviewed and, with our partners from the Fish and Wildlife Research Institute (institute), we have just selected Dakota Lewis and Emily Farrell from UCF as our 4th year fellows for 2020-2021. The entirety of these funds have gone towards fellowships, with additional in-kind support provided by the Florida Forage Fish Coalition (coalition) and the institute.
First-year (2017) fellowship recipients Meaghan Faletti of the University of South Florida (USF) and Ed Camp of the University of Florida (UF) have published their work in peer-reviewed journals. Now vetted, these important findings will help inform future forage fish research and management. You can read these open-access papers online at these links:
The remaining four fellowships were awarded to Brittany Troast of the University of Central Florida (UCF) and Jonathan Peake of USF in 2018, and Dylan Sinnickson of UF and Michelle Schaffer of UCF in 2019. Troast and Peake will submit their papers for peer-review in the coming months. Pew is publishing blogs on the 2019 fellowship recipients. The first one is here: Anchovies and Their Predators Help Researcher Solve Ecosystem Mysteries.

And for your enjoyment, here are a couple of earlier blogs about these budding young scientists and their important research:
On April 27, the research program organized its 4th Annual Forage Fish Data workshop via Zoom video conference to review early results of the 2019 fellowships and set a course for the year ahead.

Any forage fish worth its salt knows it pays to stick together! Thanks for being part of our school. We look forward to providing you more good news in the months ahead and hope you will keep reading, sharing your favorite forage fish updates, and keep tuned in for more opportunities to engage in forage fish research and conservation.
Best Wishes,
The Florida Forage Fish Coalition
Atlantic menhaden have garnered significant attention from researchers, fishery managers, and the public in recent years. That's the same sort of spotlight the coalition and research program are working to shine in Florida, the "Fishing Capital of the World." This video from the Chesapeake Bay Program explains how such efforts are helping to elucidate important predator-prey connections and support management of the Bay ecosystem to the benefit of all who rely on it.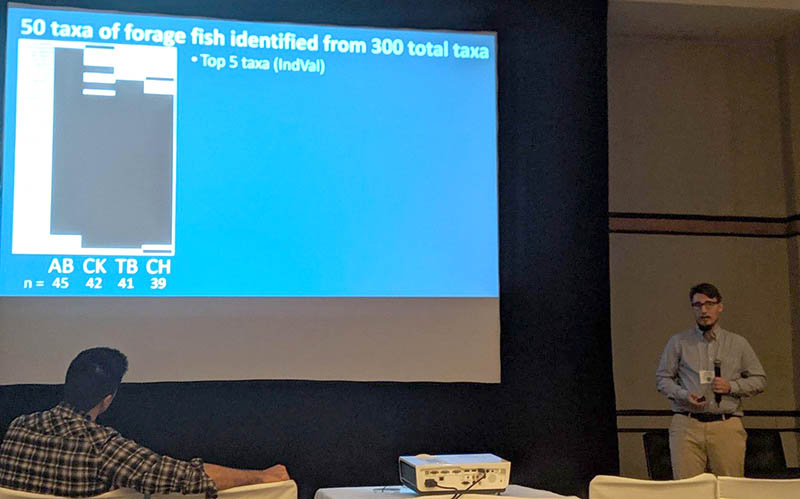 Fish Ecology Lab member Jon Peake's presentation at the 100th annual meeting of the Western Society of Naturalists!  Jon presented results from his work on forage fish community dynamics in the eastern Gulf of Mexico as part of the Florida Forage Fish Coalition, a collaborative effort between scientists at Florida's universities, FWC Fish and Wildlife Research Institute, and organizations such as Pew Environment, IGFA, and the Florida Wildlife Federation.